Contact us
Travelraga with its team of high energy professionals devoted to providing you the service in the industry can be reached 24/7 through emails fax or phone.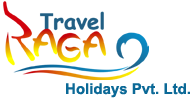 Travel Raga Holidays Pvt Ltd
Head Office (New Delhi):
Building Number: 422, 2nd floor, near Bikaner Sweets,
Sant Nagar, East of Kailash, New Delhi - 110065, India
Mobile : +91-8800362123 , Land Line : 011- 41059255/54 , Fax : 011- 41059254
Please address all your queries to:
Visit us: www.travelraga.com
Payment Policy
You can directly deposit funds into our bank account mention below.
You can also transfer money through NEFT Transaction.
You can also visit to our office.
Alternatively you can also make an online payment.

Account Name : Travel Raga Holidays Pvt. Ltd. (Current account)

BANK NAME: ICICI BANK A/C NO : 71905000761
RTGS/IFSC Code: ICIC0000719
BANK NAME: AXIS BANK A/C NO : 913020039944916
IFSC Code: UTIB0000593
BANK NAME: HDFC BANK A/C NO : 50200002044325
RTGS/IFSC Code: - HDFC0000483
NOTE :