Haldwani Hotels (India)
Comfort Inn Saurabh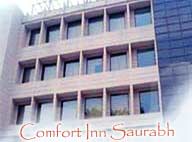 **


Location City (The hotel is situated in close proximity to the famous Jim Corbett National Park and Nainital, another beautiful tourist destination. In fact, Corbett National Park is just about 40 miles from the location of the hotel. Pantnagar airport is the nearest major airport from Comfort Inn Saurabh and is easily accessible.)

Discription Comfort Inn Saurabh is one of the finest business and leisure hotels in Haldwani placed at a strategic location in the heart of the city offering all the comforts and luxuries required by the discerning guests.Comfort Inn Saurabh provides a fully equipped business center with conference rooms, meeting halls, secretarial services and fax machine etc. For luncheon and dining, the hotel provides its own in-house restaurants where you can enjoy your favorite food and beverages. Haldwani -Kathgodam is a city in Nainital District in Uttrakhand. Known as the "Gateway of Kumaon", it is one of the most populous town and biggest
busness center of Uttrakhand. The city Haldwani was known as Halduvani.the name was derived after the tree name
"Haldu" which were found in abundance here.
All rights Reserved. Best Viewed at 1024 x 768 using Netscape or Internet Explorer version 5.0 or above.
Copyright ©2006-2007 CR License, LLC. All Right Reserved.
Terms of Use | Privacy Policy | Travel Agents