Welcome Group Hotel Mughal Sheraton
Welcome Group Hotel Mughal Sheraton, Agra India


Location:
Taj-Ganj, Fatehabad Road., Agra
Area:
City Center
How to Reach:
Airport (Dom.): 10KM., Railway station: 10KM., Bus stand: 6KM., City center: 4KM.
Discription:
Business And Leisure Hotel Gloriously sprawled over 30 acres of beautifully landscaped gardens,
the Welcomgroup Mughal Sheraton
is a fitting tribute to a dynasty of great builders, The Mughals. A splendid red-brick edifice that blends beautifully with Agra"s landscape,
the Mughal Sheraton
is a proud recipient of the prestigious "Aga Khan" award for excellence in Mughal architecture.
The Mughal Sheraton
also had the honour of receiving the British Safety Council"s coveted "Sword of Honour" award, for its commitment to safety.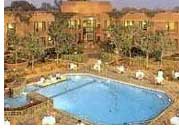 ti