Kc Crossroad Hotel Panchkula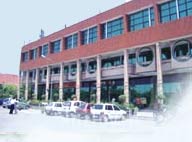 Location Nestled in the heart of panchkula.

Area City

Description Staying at the Kc Crossroad Hotel, Panchkula is an enjoyable and charming experience as the hotel offers excellent facilities. It consists of 49 well maintained guest rooms which are decorated with antique furniture. The cozy environment of the rooms matched with warm hospitality provides guests a feel of home. The guest rooms are equipped with elegant bedrooms, modern bathrooms, satellite television, direct dial telephone and other essential elements. Guests can also have wonderful view of the city from the balconies. The
Panchkula District comprises a region which as a cradle of great civilization and culture has a glorious past located
in the district is the valley of the rigvadic sarswati which was intimes gone by a hub of great activity. The district
abounds in many places, the antiquity of which has been established by archeological explorations. Some other
more recent places have acquired importance on the account of their economic and industrial. Still other places have
been developed as tourist spots like Morni hills and Pinjore complex.

How to Reach Airport: 6KM., Railway Station: 3KM., Bus Station: 1KM.