Hotel Amar Vilas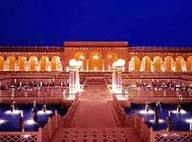 Location Taj East Gate Road, Agra , Agra

Area City Center

Discription Business And Leisure Hotel
Hotel Amar Vilas is located only 600 metres from the Taj Mahal. The classical architecture of the hotel is complemented by the elaborate Mughal gardens, terraced lawns, fountains, reflection pools and pavilions. The hotel has been designed to give guests uninterrupted views of the Taj Mahal from all rooms and suites. The lobby, restaurants, bar and tea lounge also offer spectacular views of the world famous monument. The décor and service spell the ultimate in comfort and the luxurious spa offers non-clinical therapies.

How to Reach Airport: 10KM., Railway Station: 7KM.