Ladakh Hotels (India)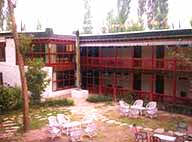 Hotel Shambha-La


Location Leh, Ladakh

Area City Center

Description Business And Leisure Hotel Shambha-La is a beautiful reosrt located in a grove of poplar trees just a mile away from the heart of Ley town, paradise in Ladakhi folklore. Treks, tours and exquisite camps can be arranged in a beautiful valley Nubra. Its peaceful tranquil setting give new meaning to the words Sounds Of Silence.
How to Reach Airport: 3KM., Bus Station: 2KM.
All rights Reserved. Best Viewed at 1024 x 768 using Netscape or Internet Explorer version 5.0 or above.
Copyright ©2006-2007 CR License, LLC. All Right Reserved.
Terms of Use | Privacy Policy | Travel Agents